Zip, Dip & Sip Tour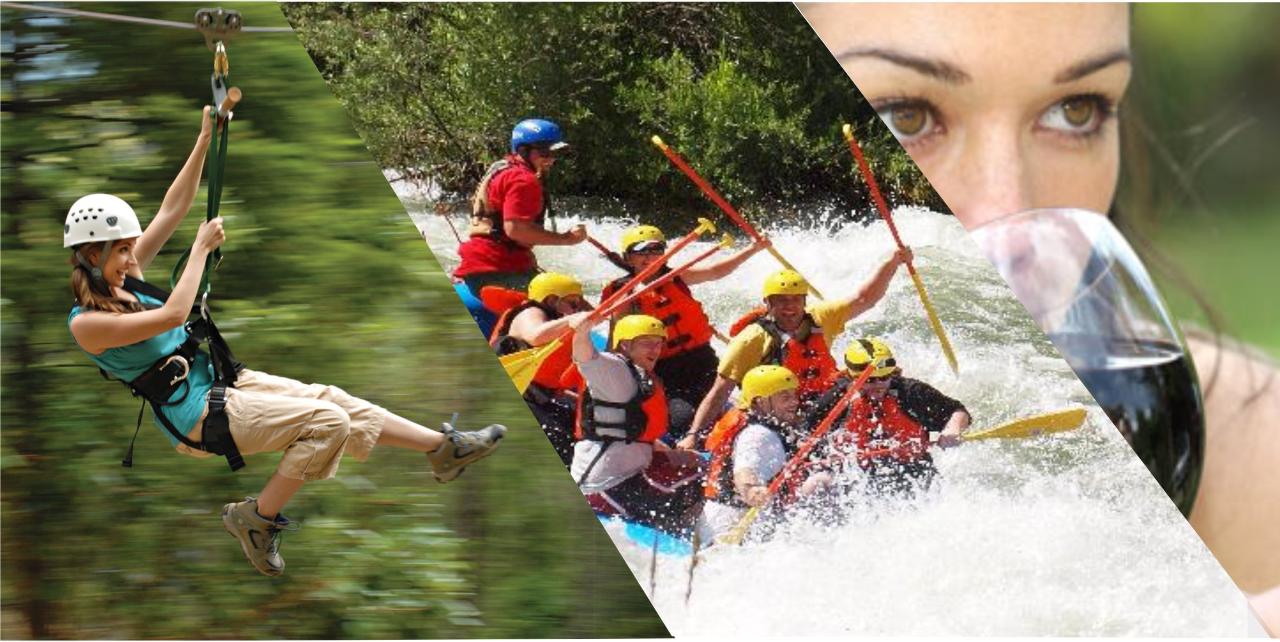 期間: 9 時間 (約)
製品コード: ZDS Tour
The shuttle pick up for this tour is at
Del Rio Vineyards at 52 N River Rd, Gold Hill, OR 97525
Zip
Rogue Valley ZipLine Adventures
At Rogue Valley ZipLine Adventures you will be accompanied by our Certified ZipLine Guides who will facilitate an exhilarating experience. Gear up at our replica gold mine town before stepping onto the first trail. As you soar through the air on our 5 incredible ziplines, prepare to be greeted with amazing views of Crater Lake rim, Table Rocks and Mt. McLoughlin! This portion of your daylong adventure ends with a ZIP across our expansive valley on the most thrilling ZipLine in the Pacific Northwest!
LUNCH is included! Our shuttle service will drop you off for an off the grill meal at Laurel Hill Golf Course.
Dip
Rogue Rafting Company
Enjoy a DIP with the Professionals at Rogue Raft Co. riding atop the white water rapids of the Rogue River. Your guided adventure will run the length of seven miles and last around 3 hours. This section has many wildlife viewing opportunities from Waterfowl, Osprey, Eagles, Beavers and much much more. Rafting greenhorns and gurus alike are encouraged to test the class I through IV rapids of the Rogue River. Dress to get wet!! Check out their website for more information by CLICKING HERE!

Sip
Del Rio Vineyards & Winery
Conclude your adventure with a SIP at Del Rio Vineyards & Winery, where you can reflect on your day and wind down with a custom estate wine tasting experience. With over 200 acres and 15 grape varietals, Del Rio produces premium wines and is key supplier for fine wine makers.
Note: It is OK to bring a backpack with personal items (sunscreen, suit, sunglasses, towel) we have places to store it while on the tour. The Golf Course is also a great location to change into swimming attire while there for lunch.

Restrictions: Minimum age allowed on this tour is 8 years old (wine tasting age 21+), weight range of 65-275 lbs.
All tours are weather permitting. Guests must meet Zipline and Rafting requirements.
Special instructions for guests under 18 (see FAQ section).
Gratuity not included in your ticket price, your awesome guides work for different companies and graciously accept gratuity throughout the day. There is not a way to tip them all at the end of the tour.
You can make reservations below or visit our partners at rogueraftingcompany.com for more information regarding the rafting portion.
By phone:
Rogue Valley Zipline Adventure (541) 821-9476 (ZIPN)
Rogue Raft Company (541) 855-7080
Payment in full is required at the time of booking. Reservations for Non-Refundable Tours can be rescheduled one (1) time up to 72 hours prior to the tour start time, based on availability of the current season. Reservations for Tours with Tour Protection can be rescheduled within the current season, or canceled, up to 48 hours prior to the tour start time.
When cancelling a reservation through email or over the phone you will receive a confirmation email. If you have not received a confirmation, Do Not assume the cancellation is complete. This tour is sold by RV ZipLine and Rogue Rafting Co. but services are individually provided by RV ZipLine, Rogue Rafting Co., Laurel Hill Golf Course and Del Rio Vineyards. All tours require a minimum of 6 guests to operate. If you choose a tour that does not meet the minimum within 48 hours of your tour time you will be notified for a refund or alternate date and/or tour time. If you have a different time and/or date that is not listed in calendar give us a call for possible accommodations, (541) 821-ZIPN (9476).